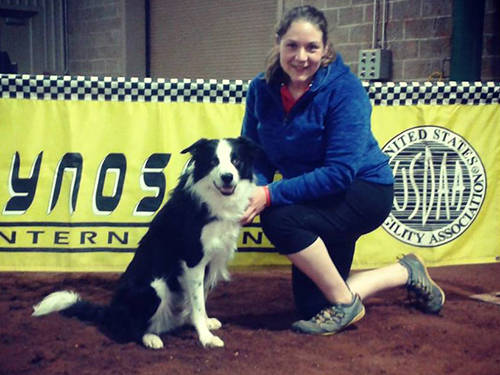 Ashley Anderson
Instructor
Agility
Ashley got her start training dogs at age six, and by age eight, she and her Golden Retriever, Whirly had their first AKC title, a CD from the obedience ring. Ashley moved into the agility ring in the mid-90s and in 2002 got her first Border Collie, Skid. She and Skid earned AKC MACH, USDAA ADCH and PDCH, and AHBA Level 1 & 2 Herding titles. Their first trip to a national agility even in 2010 resulted in a moment on the podium with the team earning a Bronze in USDAA Performance Versatility Pairs.

Ashley describes Psi, her second BC, as her once-in-a-lifetime dog. Together she and Psi have earned AKC MACH2, USDAA ADCH Silver and LAA Silver, and AHBA Level 2 & 3 herding titles. Ashley and Psi have made several National Finals including a 4th place in the 2014 AKC National Championships (26), and a Bronze in the 2014 USDAA National Grand Prix (26). They have traveled the world to compete in the 2013 FCI European Open in Belgium; the 2014 IFCS World Agility Championships in the Netherlands; the 2014 FCI European Open in Hungary; and were alternates for the 2014 FCI AKC World Team at the Agility World Championships in Luxembourg. Psi is now retired from agility but enjoys hiking, herding and swimming with the other dogs.

Her current competitors, Border Collies McFlurry and More, recently made multiple finals at the 2017 UKI US Open. Ashley works as a Veterinary Technician and is also a UKI judge and USDAA Starters/Advanced judge. She enjoys traveling, attending seminars and studying handling and course design.