Registration Opens for Current Students

January 7th at 07:00PM
Registration Opens for Public

January 10th at 07:00PM
Registration Deadline

January 20th
Ria Acciani, MPT, CCRP
Ria will conduct a two-part, hands-on workshop to show you how to safely strengthen and stretch your performance dog.
Seminar Dates and Details
Saturday, January 27, 2018, 7:30am - 4:30pm

Ria Accaini Workshop

The morning session will focus on conditioning:

Ria will cover how to safely strengthen your performance dog with a varied conditioning program that will enhance performance and decrease injury. The intensity, frequency and duration will be discussed to maximize the benefit from your conditioning program. Participants will learn and perform specific exercises that benefit a wide variety of dogs and how to perform them safely and correctly. We will be using a variety of balance equipment. Proper warm/up and cool down will be demonstrated and performed.

What is conditioning
Why should we condition our dogs
What are the components of exercises
Why should I rest my dog
How much is too much
How to put together your own conditioning program




The afternoon session will focus on stretching:

Ria will cover Why and how to Stretch your Canine athlete

Quick screen to determine injury or lameness
How to treat acute injuries
Who do I see if I have an injury
What is stretching and its importance ie. Why should I stretch, benefits of stretching and why does it help
Basics on how to stretch
Specific stretching techniques for the "whole" dog. Head to tail. Pictures provided.
Participants will perform all stretches after demonstration of each individual stretch
About Ria Acciani, MPT, CCRP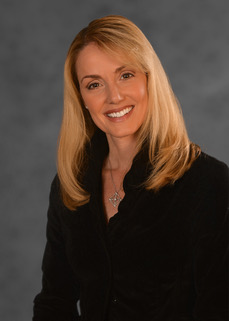 The husband and wife team David and Ria Acciani, are licensed physical therapists who bring more than 20 years experience in human therapy. Today, they're among the first physical therapists in the area to complete the certification coursework in Canine Rehabilitation offered by the University of Tennessee.
The Accianis' commitment to animal care - combined with their love for the family Labrador, Roly Poly, and intense interest in the new practice of canine therapy - led them to develop this specialty practice in this region now populate by families with well-loved dogs.
While tailored today to dogs, this practice is based on a solid foundation of human physical therapy education and experience. The Accianis hold graduate degrees in Physical Therapy - the evaluation and treatment of human musculoskeletal and neurological disorders. With additional training and certification in canine rehabilitation, they offer a rare combination of therapy for the treatment of both humans and injured pets.
Learn more at: DOGPT.com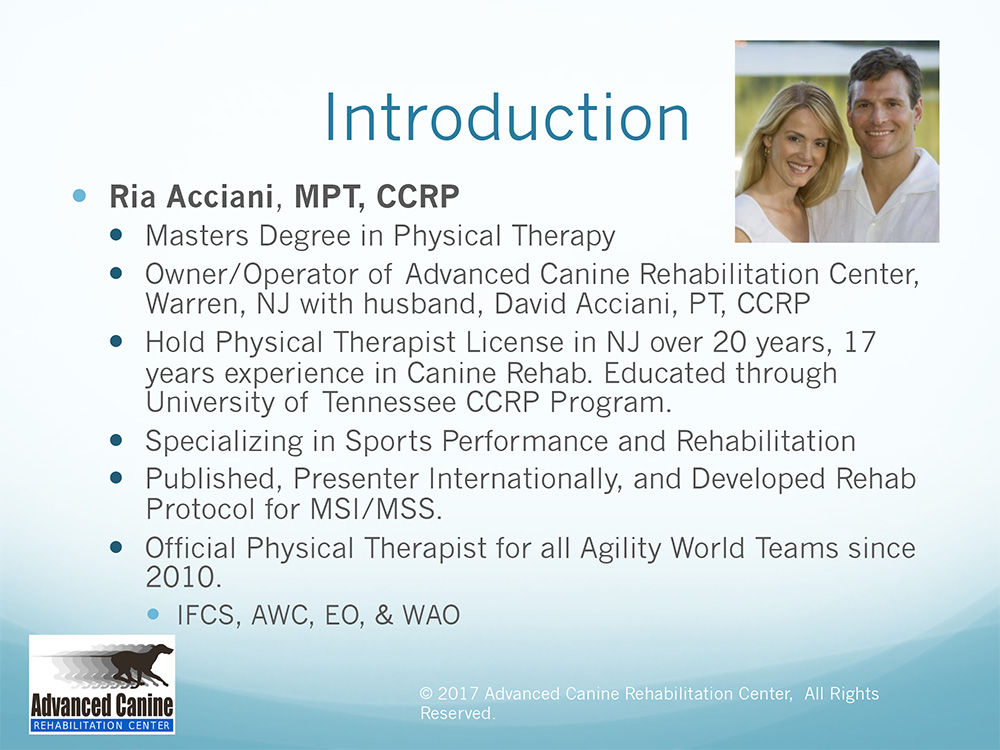 Seminar Details
IMPORTANT notes about this workshop:
By signing up to the workshop, you agree to all ACA policies and to the specific terms, conditions and guidelines herein.
While in two parts, this workshop is one event for one handler only. You may switch out your own dogs between the AM and PM sessions, but you may NOT switch handlers or "share" a working spot.
Questions from auditors may be limited in order to provide attention and priority to working students in order to stay on track and on time.
There is absolutely NO VIDEO allowed at any time. Students may take still photos and notes, but may not post on any social media platforms nor share via email or other physical or electronic means. You will be provided with a presentation which may not be reproduced. This will be strictly enforced and violation will result in banning from future ACA events.
The seminar will be held in our 100' x 125' climate controlled building and will run from 7:30am to approximately 4:30pm with a one our lunch break.
Registration Information
The seminar is be limited to 12 working spots . The cost for a working spot (1 handler + 1 dog) is $150 for current ACA students* and $175 for general public. Auditing spots (handler only) are available at $90/day (no non-participating dogs in the building).

- Registration opens Sunday, January 7 at 7:00pm for currently enrolled ACA students* and Wednesday, January 10 at 7:00pm for the general public.
- Registration is online ONLY.
- Please make sure you have an account on the ACA website and can login before registration opens to avoid delays in registering.
- Working spot registrations are taken in the order received and are approved based on verification of eligibility.
- A waitlist will be maintained once all working spots are filled.
- Confirmations will be sent within 48 hours.

* Current ACA students are defined as those that have taken four or more classes in the past year.